About our
Wellingborough
nursery
Our Wellingborough nursery, is a cosy setting with a warm, caring and friendly atmosphere. The areas within our nursery are dedicated areas for the different age ranges to ensure we offer appropriate learning and experiences tailored to that age. We have a cosy baby room, a toddler room, and a pre-school. All the rooms within our nursery and the outside areas build up on the children's interests and aim to stimulate their curiosity. We are also very lucky to have a fantastic garden area for our children as well as a sensory area.
Our children are served seasonal, healthy lunches and snacks daily and we can cater for any dietary requirements as well as support the weaning process for babies.
At our nursery in Wellingborough we follow the Early Years Foundation Stage curriculum, supporting all areas of your child's development from three months until they are ready to go to school. Our early years practitioners monitor each child's progress and plan a variety of enrichment experiences to support individual development in all areas of learning.
Babies
Ladybirds- 3 months to 2 years
We also offer flexibility depending upon the age and stage of each child.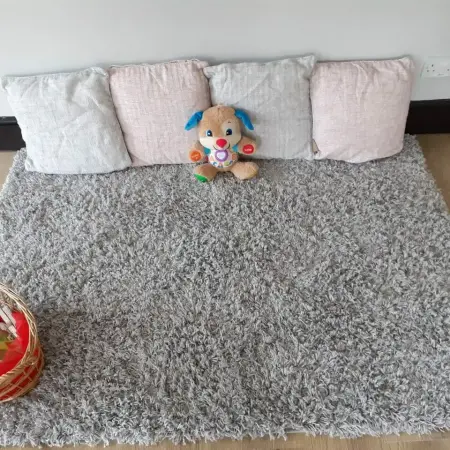 We also offer a separate sleep room so our babies can have a quiet nap when needed.
Toddlers
Caterpillars – 2 to 3 years
This room is large and lively, full of enthusiasm and learning.
We use a curiosity approach to encourage the children and aim to minimise the use of plastic and focus on natural resources.
Pre-school
Butterflies – 3 to 5 years
Our pre-school leads out onto an exceptionally large garden area that our pre-school children can have free flow access to.
Ensuring children leave our setting prepared for the world around them.
Outdoors
Our fantastic outside area provides a stimulating learning environment.
This includes a mud kitchen and a construction area for our children.
What makes our Wellingborough nursery special
Below is an example of how we spend our day at Ashbourne Day Nurseries, please note nurseries and the dedicated rooms within them may differ
HOW WE SPEND OUR DAY AT
ASHBOURNE DAY NURSERIES
| | |
| --- | --- |
| 7:30 – 9:00am | Breakfast – A substantial meal to start the day |
| 9:00am | Morning opportunities and garden exploration |
| 10:00 – 10:30am | Snack time – A healthy snack |
| 10:30am | Free flow into garden and more opportunities |
| 11:30 – 12:30pm | Lunch time – A nutritious meal to fuel play |
| 12:30 – 14:00pm | Play time for all |
| 14:00 – 14:30pm | Snack time – A healthy snack |
| 14:30 – 15:00pm | Tidy-up Time |
| 15:00 – 15:30pm | Afternoon opportunities and garden exploration |
| 16:00pm | Tea – Sending their tummies home full |
| 16:30 – 18:00pm | Calm activities – Story time, Drawings etc. |
| 18:00 | Close |
Below is an example menu at Ashbourne Day Nurseries, please note nurseries and the dedicated rooms within them may differ​
Breakfast is an option of Rice Krispies, Weetabix, Toast or Multigrain Cereals and fruit. Purees can be made to suit your child's stages of weaning. Alternative options will be created to suit dietary requirements.
Snacks are served AM and PM with an option of Rice Cakes, Breadsticks / Crudites and Dips, Crumpets, Crackers with Cheese Spread and Tomatoes, a Selection of Fruit.
Frequently Asked Questions
Contact our Wellingborough nursery
"*" indicates required fields
Ashbourne Day Nurseries In Wellingborough